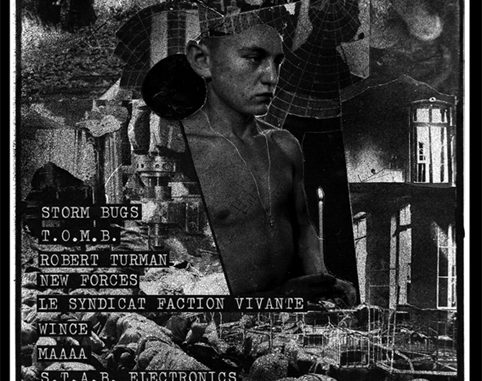 Massive 84 pages B5 size issue finally out in February 2018!
Long awaited issue covers:
01 Cover artwork by: Paul Kerin
02 Editorial by Mikko A
04 Wince by: Mikko A
12 Le Syndicat Faction Vivante by: Cyril Adam
16 S.T.A.B. Electronics by: Mikko A
22 Robert Turman by: Stephen Petrus
26 Torba by: Manuel Pereira
30 Mutant Videos by: Frank Cordry
32 T.O.M.B. by: Arvo Zylo
40 Grim by: Takahiko Yokoyama
42 MAAAA by: Mikko A
46 New Forces label by: J. Peterson
52 Storm Bugs by: Cooper Bowman
58 Dead Tech by: Cooper Bowman
60 The Essentials: Hal Hutchinson
64 The Essentials: Human Larvae
66 The Essentials: Richard Stevenson
70 The Essentials: Kristian Olsson
78 Scum Core by: Frank Cordry
80 Artwork by: Paul Kerin
RETAIL ORDERS.
http://www.nhfastore.net/special-interests-10
From nh/fa store, shipping of zine, worldwide, 5 euro! You can order 2 copies of zine or zine + two CD's or other items from store. Order that weight under 500g will cost merely 5 euro to ship!
Artists free copies, distro copies and so on will be sent as soon as possible. Distributors contact Freak Animal Records at fanimal at cfprod dot com