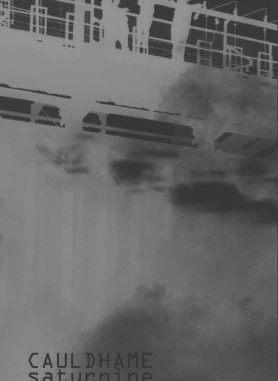 CAULDHAME is one of the artists from UK who has barely received recognition it deserves. One may ask what really is the recognition on deserves based on merely couple tape releases?
Previous release was tape called "Debris" on Unrest Productions 2013. It is easy to agree with Discogs ratings that reach close to full 5 points. However, despite being nearly perfect tape, 105 copies edition has remained fairly easy to purchase still today.
CAULDHAME's latest effort, tape called Saturnine, shows two things. First, that band has maintained it's strength and second, Unrest Productions is good in picking up bands under their roster, that has very specific quality to them.
This quality could be described as almost too good to be a tape. Pretty much every Unrest Productions tape from last years has been too good to remain "just a tape". Kevlar, IFOTS, Abscheu, Kontinent, Human Larvae and Am Not. This is not to say tape is not good enough and LP/CD would be better. Quite opposite. I strongly believe, all mentioned bands have greatly benefitted from putting out material on tape. Sonically and aesthetically. Question is merely that is format reaching as many listeners as material certainly could deserve?
Cauldhame Saturnine tape inlay does not offer any details about recording dates. It could be recent, or it could be already done years ago. Sound and composition has strong similarily to his previous work.
Cauldhame operates always by layering multiple elements on top of eachother. Often few layers of sharp tiny noisy details and drenching it with immense and epic humming background keyboards. New tape has plenty of physicality to it. Vast amount of electrically striking, but physically crafted acoustic sounds never become noise, but are noisy, busy and innovative. Electronics and keyboards are most often atmospheric, despite undisputed brooding power that is present in many of the tracks. Vocals scarsely used, and very deep in the mix, almost disappearing as mere sound-element.
It is hard to point out genre where this artist operates. This makes me think something between CONTROL (usa) and SECRED APEX (fin). Gap between mentioned two is so huge, Cauldhame has clearly its own sound, mixing together dark ambient, industrial and experimental sound textures.
"Debris" tape is sold out from most of places. "Saturnine" tape available now from Unrest Productions and various distributors. Older material that has been published only digitally at bandcamp, is well worth checking out. Hopefully "Thanatologist" would come out in physical format too.
https://cauldhame.bandcamp.com/album/thanatologist