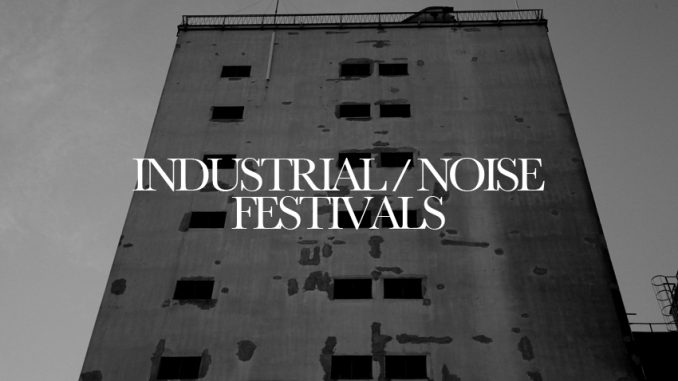 INDUSTRIAL & NOISE FESTIVALS
Edited: Mikko A.
As much as I am all in favor for small & intimate gigs, of all types, in context of industrial & noise, there is nothing quite like international festival. It never takes just few hour slice of your day, but totally interrupts daily life. Often for multiple days. Something to be anticipated and planned. It is often opportunity to catch multiple good bands at once. It is often meeting of dozens and dozens, if not hundreds of people who are unlikely to meet too many times during lifetime.
Festivals what happen more than once, turn out to be the best. Perhaps experience of arranging, but also possibility to build somewhat loyal base of visitors. I can't say any of the festival I have visited, would have been bad. Some gigs have been.
Some may have been different than expected. Others may have had less bands I'm highly excited about. Perhaps even atrociously bad artists, but as opposition to handful of utterly excellent ones what balance overall impression to highly positive.
Be it NO FUN FEST, LAFMS Fest, NO TREND, UNITED FORCES OF INDUSTRIAL, HEAVY ELECTRONICS, NORDIC AUDIO MODERN, CONSUMER ELECTRONICS, TOWER TRANSMISSIONS, etc. They have proven to be something to be remembered. Several more festivals exists all over the globe what I have yet to be able to witness.
I don't even have preference of how fest will be. Will it be 50 bands chaos with short sets or merely 3-4 bands a day doing longer focused sets.
Special Interest decided to ask handful or festival organizes about what they do. Three very different festivals replied:
UFOI: UNITED FORCES OF INDUSTRIAL is just what the name says. Industrial bands uniting in the common cause of waging war on the senses of what is a select crowd of die hard people over a weekend in April/May every year in London.
WIF: WROCLAW INDUSTRIAL FESTIVAL is Old School Industrial / Dark Ambient / Noise / EBM /Power Electronics /Post Punk/ Neo Folk / Rhythm'n Industrial / Avantgarde / Art Pop / Industrial Rock / Experimental festival in Wrocław – Poland. Since 2001 / every year-early November.
OBSC: OBSCUREX FEST is mostly focused on Industrial, Noise and related genres on underground or d.i.y. -venues and attitudes.
Back in the day, I remember reading reports of the festivals and gigs from few existing genre magazines. Watching VHS of Heavy Electronics festival and hoping one day visit something like this. Back in early 90's Finland, it was hardly realistic to consider event such as those. Even single gigs were rare occasions until 2000's. Even around Europe, international industrial noise festivals used to be rare occasions. Nowadays there are several organized each year. What is the role of festival in the current situation when it no longer about new excitement, but established culture in itself?
UFOI: I tend to think of UfoI's role in the UK and not so much abroad.
UfoI grew out of a void. There was nothing going on in the UK that interested me or the others on the label. Apart from the odd respectable arts grant funded retro event and the usual jobs for the boys happenings which doesn't cut it. It was a case of no one else will so it's up to us to gather the resources and make it happen. There's enough knowledge and experience within the confines of the label to pull it off.
UFoI is the only pure and unashamed industrial festival in the UK and as such we hold a unique position. There is no one else here doing what we're doing.
WIF: Wrocław Industrial Festival is the time when you can experience the whole wealth of this aesthetics and see live performances of both the genre's classics and new seekers for whom industrial music is a springboard to discover new paths. The event, this year held for the 16th time, it is a meeting place and a platform for enthusiasts hailing from different parts of the world that enables them to exchange experiences
OBSC: I am just doing my own thing. I don't like to compare anything I do to others. Maybe my fest is even bit more underground than other noise festivals. No rockstars, big clubs or rock venues. Just scummy bars, porta containers and underground freaks.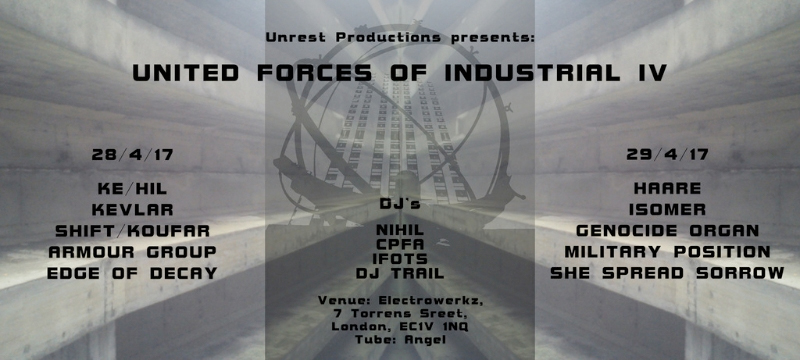 Most of the festivals end up having their specific spirit. There is very different atmosphere to enter NORDIC AUDIO MODERN war-time bunker in Lithuania to witness variety of Nordic industrial / ambient bands – as opposed to same era NO FUN Festival in Brooklyn New York, filled with countless bands, flooding merch area filled with handmade tapes. It is almost like entirely separate worlds, while couple bands may link them together.
One time, I was talking with L.White label boss (who was responsible of Berlin's CONSUMER ELECTRONICS FESTIVAL) at No Fun Festival and he concluded: "who are these people and these bands"? Even as organizer of festival and label manager, in this small underground genre, one could be stunned by not being able to recognize half of the groups on the bill or catch even handful of familiar faces in crowd. It is both location, but also nature of festival what makes it vastly different.
It seems to be very different audience who is filling the void of nostalgia and who are there to find something new and exciting they didn't know about. There is difference in buying ticket to seemingly "last chance" or "once in a lifetime" event, instead of witnessing the first steps of bands that are yet to become household names in genre. How to stand out from the other organizers? What would be the goal of festival?
UFOI: Goal is to be a viable UK based event that offers an industrial festival with the same fervour as the various regular events offered on the European mainland.
Anyone, regardless of time in, can play at UFoI if they can cut it. Some can, many can't. Old timers who can't won't get a look in and new comers who may lack experience but have the motivation are given the opportunity to present themselves to a highly dedicated crowd of fanatics and do it on equal terms with the so called bigger and more established names on the bill.
UFoI is an industrial festival first and last. We'll add the token harsh noise project every year but that's about the width of it. It's a reversal of the many sniffy noise festivals which have their token PE/industrial act among a melee noise acts. Difference being we pick our token noise act with great care and prejudice.
WIF: As I wrote above we present both: well-established musicians who laid the foundations for the genre's development and young artists who bring fresh ideas to the industrial music/culture. Main concept is to present not only one specific style, but the whole spectrum of this genre. For me "Industrial" means more than only music, it is even more like aesthetic. Its ethos of D.I.Y, it's global tribe. If I had to describe our festival with one word – that would be a word: "ECLECTIC". One day you can see on the same stage: power electronics – neo folk – EBM – post punk and dark ambient artists. WIF audience is very open minded.
OBSC: I mostly just gather genres and artists/bands I personally like. Harsh Industrial Noise and related, also one or two punk, black metal or folk bands might be included but the focus is on anti-musical side of things.

What are the main obstacles in organizing festival these days?
UFOI: In London the enemy is cost and access. Access as in time and space. It's a constant battle in this country with venues that don't understand why 6 or more artists need more than an hour to set up and soundcheck before the doors open. It's very frustrating. Communications are what they are as well. For me to drive up from Hampshire with all the gear and merchandise and make it into central London and park near the venue is an adventure in itself. Accommodating 10-20 people in London is a nightmare. It's expensive and I think the standards are below what festivals in other countries can offer. People in London live in rat holes with no room to house guests so that option rarely works and hotels and hostels are either shit or horribly expensive.
We've had our share of venues cancel too. The usual bullshit reasons with "our associations" and other vagueries. In the UK the venue is king and they act with impunity against organisers. It's par for the course and we overcome these hurdles. If you want to make things happen you soldier on!
Having said that, moving the festival to Electrowerkz have made a difference. It's good to have a venue which understands what we do and who are supportive of it. I think Electrowerkz/Slimelight often gets criticized and are taken for granted but it's probably the only venue in the UK of its kind and it pulls a huge weight to keep things underground going in the UK.
WIF: For me the main problem is always to build up an interesting line up which will attract many different people, and to find budget for professional production. And also the fact that some of the artists don't want to play on the festival which has "INDUSTRIAL" in the name, as they don't want to be considered with this genre (fortunately it's not very often).
OBSC: Finding noise friendly venues and some of the venues might have problems with extreme content of some of the bands. Also not all of the artists want to be play at the same fest with the likes of XE or ZSS.
Most of the organizers I talk to, before, during or after the festival, are drained. Almost to the maximum limit. Many of them conclude: This was it. No more. But like many men who tend to like to stand up and take the challenge in life, they can't help themselves. Just end up catching breath and proceeding with this ungrateful task they have taken. What are the reasons that keeps one motivated to organize yet another festival?
UFOI: The knowledge that we are doing something to promote the genre and breathing new life into it. The belief in the quality of the bands and our ability in providing them with the organisation they require and deserve.
The awareness that once we shut shop it'll probably return to what it was before which is either bullshit glitterati events with tired old cunts peddling their crap in some disco venue with a nice PA at safe volume – or nothing. Nothing is almost preferable actually.
WIF: That is Passion, Will, Love to the Music and of course all happy fans from all over the world who are coming back to Wroclaw on the beginning of November every year.
OBSC: Seeing interesting bands and meeting interesting people from around the world. Also, just being bored plays a big part.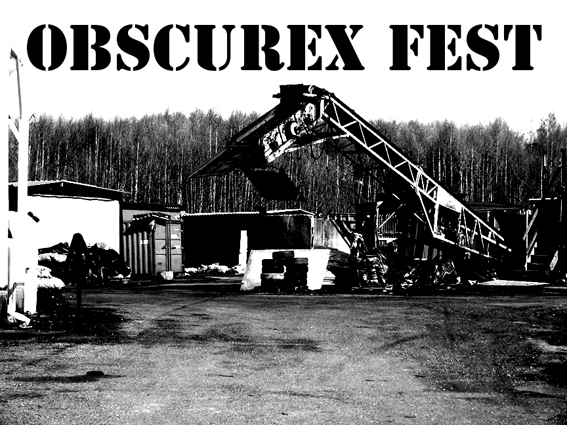 What have been some of the personal highlights of festivals so far?
UFOI: I know it's a cliché but the biggest highlight has been the people who've attended. To see the same people come back every year and be totally dedicated has been the clearest confirmation that we've achieved something worthwhile with this festival. We have them to thank for the success of the various UFoI instalments.
WIF: Since 2001 almost 300 bands have played on WIF, many of them give regular live concerts around the world (PSYCHIC TV, THE KLINIK, MERZBOW, DAF, TUXEDOMOON and many others) but there were also a lot of rare performances (LUSTMORD, SOI SONG, ZOVIET FRANCE, NURSE WITH WOUND, CARTER TUTTI, etc), and concerts of true legends which came back after long "silence" like : TEST DEPT, CLOCK DVA, T.A.G.C., CINDYTALK, BORGHESIA, SIGILLUM S.
OBSC: No specific highlights. Overall quality of artists and festival has been so high thus far, so it's hard to mention just one thing.
Many times, one can understand why some festival would bring multiple foreign groups. You want the best and most interesting ones. Identity often comes, not only from having the best bands, but to have locals. That international people who come to show, don't see merely groups they could see in "anywhere", but there is something very specific. In industrial/noise genre, it would be actually quite logical for audience to "tour" to see bands, rather than bands touring to reach audience. In such a niche genre, it seems more realistic for artists to stay still, and audience to travel, than to other way round.
International festivals as merely bringing international artists to specific region or actually importance of bringing international audience?
UFOI: Both!
WIF: Yes – more than 50% of the WIF audience are people from all over the world –Europe (mainly: Germany, UK, Ireland, France, Austria, Scandinavia, Italy, Russia, Czech Republic) but also from US, Japan, Israel or Australia. That gives us all a global familiar feeling. Spending few days with people You like, listening the music You love is definitely the best thing about this festival (and about other music events too).

OBSC: Yes, it is important.
Those who have been at UFOI or Obscurex, or even viewed their line-up, may see that while magnitude of Festivals is not as giant as Wroclaw, bands what they are able to include on the bill, makes people to travel. While some organizes have struggled to even accept existence of overtly brute power electronics acts, especially Obscurex has almost exclusively profiled into booking them. Making small event worthy to travel just to see "how it's done in Finland". United Forces Of Industrial has been much bolder than many of other festivals, putting shows for UK artists who appear to play in their homeland surprisingly little. It's hard to say if people these days actually would travel internationally, just to see "show". It seems to be one of the most crucial benefits what makes it "worth it".
UFOI: Larger congregations of people gathering for a few days and not just a few hours provides the opportunity to bond with people from other parts of the world to forge creative working relationships which eventually feeds into the genre and keeps it going, growing and evolving.

WIF: WhenYou organize a festival You can simply concentrate and put Your whole energy on doing one big thing. It is also better for artists-booking, and it's easier to find sponsors.
OBSC: Easier to get bands to play and travel, since they can see other good bands while playing here.
Conclusion made by Obscurex seems very accurate. It is a rare case, when noise gig is any sort of source for income. Most often, especially smaller artists, play for opportunity to play. As simple as that. Even many of the artists who may get few euros to compensate their costs, may often look the bill to see who else is there. Perhaps some look it as opportunity to catch up with old friends, others simply to have opportunity to see other bands. You are not there to "get paid", but to actively take part. This is what truly makes genre to flourish. To be created & witnessed by fanatics, and all it needs for the fuel is enthusiasm. Festivals like TOWER TRANSMISSION at Dresden has actively promoted this attitude among artists. They have requested artists to stay out of backroom and to go see bands play. Heavy Electronics Festival, it has been traditionally very respectful from labels such as Tesco to close down merch table during gigs. Showing respect for performing artist.
Reality may be harsh, nevertheless. Someone needs to pay the bills and do the so called "shitwork". How do you see future of your festival?
UFOI: While I think people take UFoI for granted there never was any certainty that it would carry on beyond the first instalment. Every year it's been the same question between me and Tamon. Do we have it in us to do it one more time? So far the answer has been yes but one day it will be no. People should understand that UFoI takes up a lot of our time and not least Shift has paid a price for that. I hardly ever have time to work on my own music and the few moments there are are too short to make any real headway. The future of this festival is never a given. All things are finite. Anyone who wants to attend should do it now. One day it's over and it'll happen sooner than everyone thinks.
WIF: I don't think too much about the future, as future is unknown – I just keep on working on current edition – step by step, year after year.
OBSC: Perhaps adding third day to the possible Obscurex Fest III in 2018. This year's fest is already on the limits of two days. Just have to survive this years festival first…
Visit:
UNITED FORCES OF INDUSTRIAL
IV
Friday:
EDGE OF DECAY
ARMOUR GROUP
SHIFT/KOUFAR
KEVLAR
KE/HIL
Saturday:
MILITARY POSITION
SHE SPREAD SORROW
HAARE
ISOMER
GENOCIDE ORGAN

https://www.facebook.com/events/1127389720649998/
https://www.special-interests.net/forum/index.php?topic=7444.0
Tickets:
Friday – https://www.wegottickets.com/event/385838
Saturday – https://www.wegottickets.com/event/385839
 
WROCLAW INDUSTRIAL FESTIVAL
Bands of 2017 – TBA
http://industrialart.eu/en/wroclaw-industrial-festival/16-wroclaw-industrial-festival
https://www.facebook.com/WroclawIndustrialFestival/
https://www.facebook.com/events/348956462143991/
contact: frett@jobkarma.pl
OBSCUREX FEST:
August 11th Bar Diamond Rajatorppa:
Alfarmania(Swe)
Sump(UK)
Iron Fist Of The Sun(UK)
Hal Hutchinson(UK)
August 12th Obscurex-kontti:
ZSS(UK)
Axnaar(UK)
Menacing 84(UK)
Pyhä Kuolema(FIN)
Bizarre Uproar – Special 25 Years Anniversary Show(FIN)
HERSKA
https://www.facebook.com/events/1402988919745685/
https://www.special-interests.net/forum/index.php?topic=7480.0
More info: niko@obscurex.org