Text & Photos: Mikko A.
13.5.2017 Vantaa, Finland.
One of those things that many Finns living in southern part of country takes for granted, but for pretty much everybody else in the world, it seems like surreal bizarro-world.
I'm of course talking about Obscurex Kontti. Cargo container transformed into "venue". Remote location in industrial area of Vantaa, at outskirts of capital city area. Too far and difficult to get to for anyone except those with authentic interest. But yet close enough to lure few dozen people to any sort of obscure noise event.
Area is filled with containers, used as storages, rehearsal places and so on. Plenty of discarded industrial crap. This time new addition seemed to be huge pile that appears to be machinery of old paper-factory? One of the many container has open door, and loads of stuff including primitive drumkit has been pulled out on the yard. You got bands soundchecking already. People stand outside, waiting to hear command to get in. Typical routine of "Kontti gigs". There is no room to hang out inside. You wait outside until the call, and then do you best to fit in.
Perhaps it was due multiple gigs happening the same time in Helsinki, as well as relatively unknown bands, attendance wasn't huge this time. Huge. That is of course relative. We're talking about variation of crowd, where having 10 or 20 more than usual, will be "too much". And 10 less than usual, it seems smaller crowd.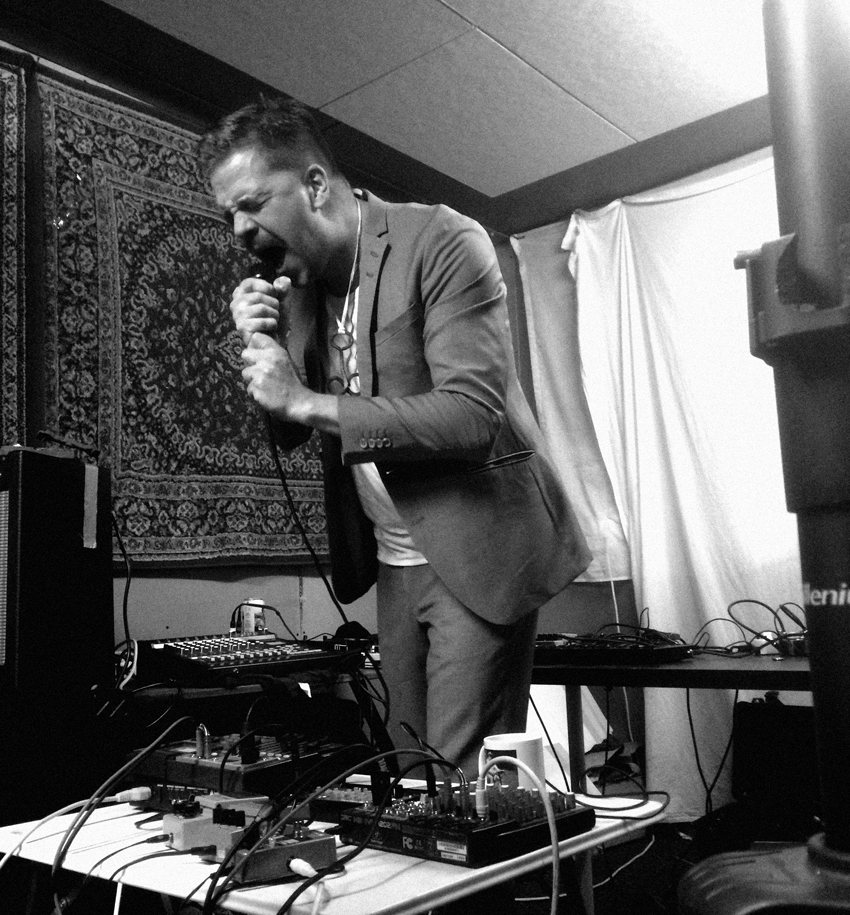 I was curious to see Jumalainen Kullervo gig. Finnish experimental/noise project doing debut gig is always something I'm interested to see. I knew person behind project as good singer & songwriter, but never knew he was about to make noise. What we could withness, was in many ways in fine tradition of Finnish noise. Or even more so "kontti noise"! No commando mask, though. Man dressed in grey suit, all lights on, seemed like approach that Keränen could take. Symbol pendant indicating something less mundane than *just noise*. Set started quietly with synth drones and proceeded into improvised analogue synth noises until erupting to full blasting volume of contemporary power electronics. Wild, loud shouting, on edge of hysteric breaking point of voice. Combined with bassy and tonal distorted synth layers. Mixer was all-on-red most of the time, creating nice saturation of sounds. Vocals would erupt underneath the noise to be audible. This type of approach where sound elements are ripping through layers of other sound works really nicely in live situation.
As a debut gig, very good one. Few technical flaws, like one of PA speakers being without power in beginning. Luckily I noticed it and even as mere "audience member", just turned power on. Lets see where this project will lead!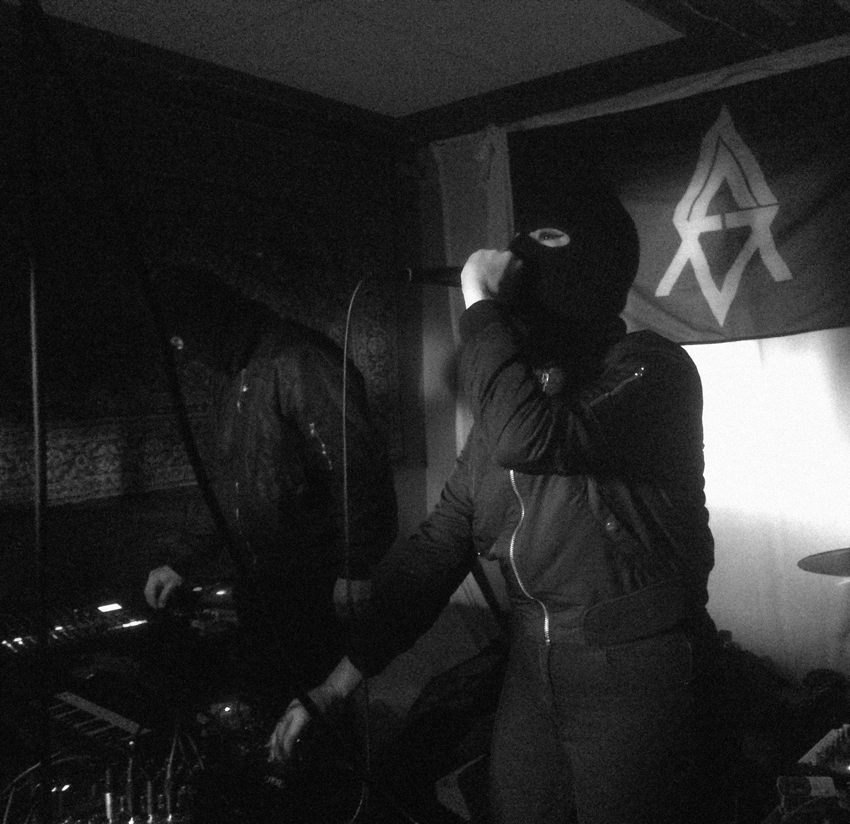 Next one was Armour Group. As I had observed the possibilities of venue during previous artists, I asked why not add few more amplifiers to make things louder. Therefore, two bass amplifiers were connected to main mixer before AG started to play and damn… if there is one thing that generally makes live noise better, that is: Volume. Jumalainen Kullervo was not bad, but how good it could have been with additional couple hundred watts of amplifier power?!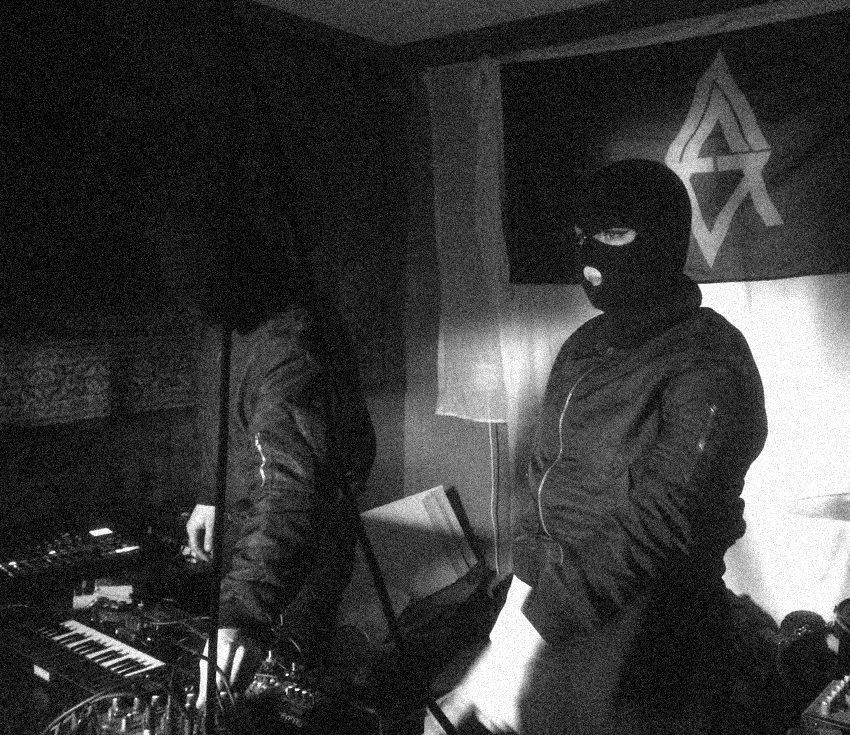 Armour Group from Australia was duo who delivered material very tightly rooted into traditions of European power electronics/death industrial/heavy electronics. Pulsations of heavy synth sounds one could link to Germanic aproach. Sound samples more to themes popular in old UK and USA. Heavily effected commanding voices, slowly bounding rhythms of oscillations. Two masked persons, taking turns in vocals and synths. Whole set went on, with bleak atmosphere of regurgitating demise of the world. Barely interacting with audience. Very good set that would appeal to tastes of people into genre. It also leads to conclusion that being so traditional, I might not please those who don't care for traditional heavy electronics, even if it is better than a lot of material in genre at this moment.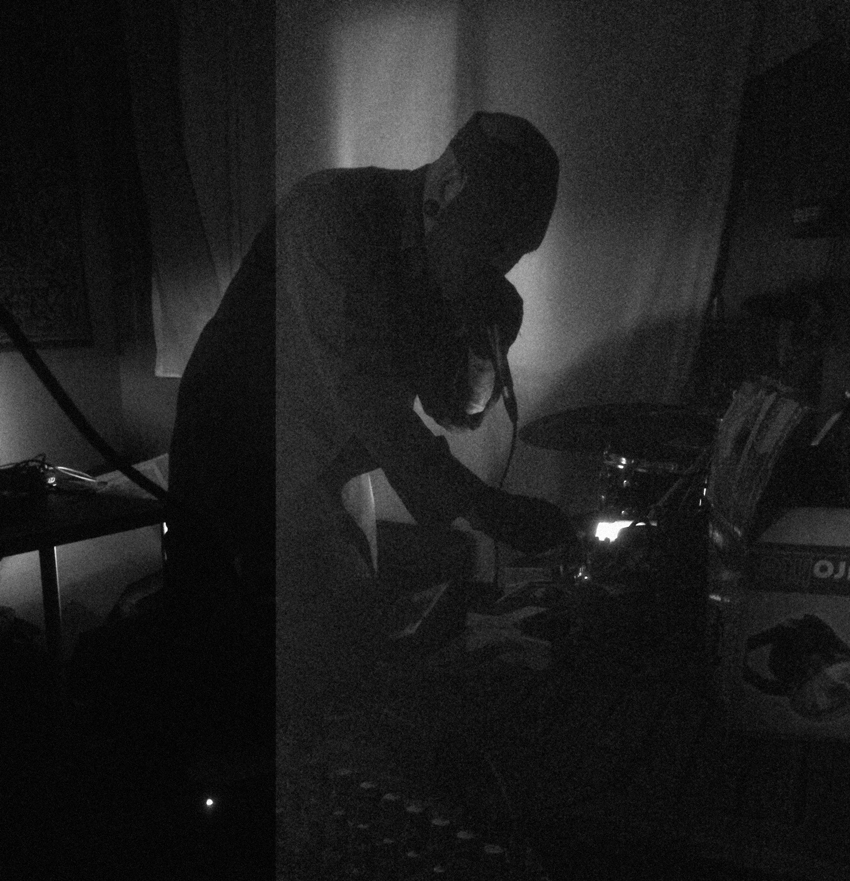 It's been while since seeing Halthan. I have concluded countless times that band remains on edge of becoming interesting, but something is still missing. Early days home recordings with synth software lacked the dirt and roughness. After that gigs or recordings assisted by E.S.T. label or F&V related people were nice, but also added element what didn't seem like Halthan masterminds own way. Rather dominated by contributors touch. I had been waiting for moment when Halthan can live up to level it has always suggested to be able to reach.
This time it looked for a while it could be now. Technically it was close to approach similar to Con-Dom. Walkman playback and vocals. Nothing more. Sounds and compositions of the songs were really good. Lo-fi, crude, yet layered and complex creations of industrial-noise sounds. It promised now this will become absolute best Halthan gig. But…. Turns out vocals are about 20 times louder than backing tape. As result it was either fairly quiet, although decent songs, or utterly loud heavily effected vocals what would make everything else disappear. Few longer instrumental parts were nice, but all in all, after almost 15 years of activity, it's about the time Halthan will stop fucking up and focus on getting things right. You give newbies second chances, but it's been probably 10 years since first Halthan gig already…
That said, material Halthan played was mostly new stuff. This promises that new tape on Obscurex should be instantly best material from project. If this gig didn't, maybe new tape will finally deliver Halthan in a way that been waiting for!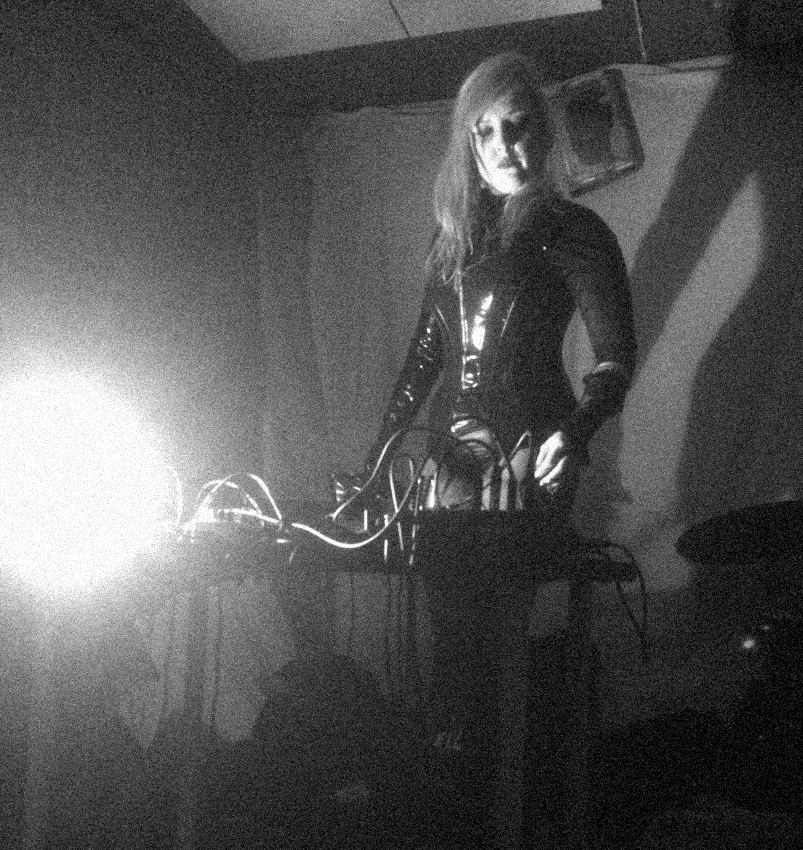 I was in unfortunate situation with gig. Headlining artists, Military Position from Australia was something I was desperately wanting to see. However, long before this gig had been announced, I was booked to play in other show in Helsinki. Luckily schedules allowed to get to see part of Military Position set before rushing into another venue and jump behind drumkit…
Military Position dressed in neat "old fashioned" dominatrix outfit. Started to blast electronic beats and pulsations of synth and effected vocals. You can find cover songs of Sleep Chamber in one of recent Military Position tapes. It would be foolish to lump them together too closely, but similarties are there. Sleep Chamber style and level of quality changes so drastically from release to another, but lets say early/mid 80's. Similarities are 80's dominatrix / fetish visuals. Totally unlike the "goth-ebm-party" atmosphere. More about dungeon-sessions, under rough treatment. Early 80's Sleep Chamber often build tracks based on simple monotonous beats and bleak vocals repeating catchy phrases. Military Position is way more advanced sonically. Not just plain drum machine sounds and lazy echo, but grimly distorted, rotten and properfly amplified sounds. Constantly modulated vocal-effects and synth noises, spicing up tracks and giving them actual artistic substance.
Military Position was good to watch. The beginning what I was able to see, was already active. Not just standing behind the gear, but also interacting with audience and the nearly dead-drunk finnish slaveman crawling on the floor. Fast strobolight in claustrophobically tiny venue, making shiny details of clothing become almost unreal. Something what reminds of some VHS tapes or blinking flashlight of photoshoot, not actual gig happening in front of you. While I tend to dislike blinking light, this time, it gave good addition. What I was told – gig only got better. Including some taste of "Finnish noise scene atmosphere" what appears to be a bit different than in many other countries…
Big thanks to Obscurex for yet another unexpected gig! Who could have thought you could see remarkable, new and rising Australian projects here!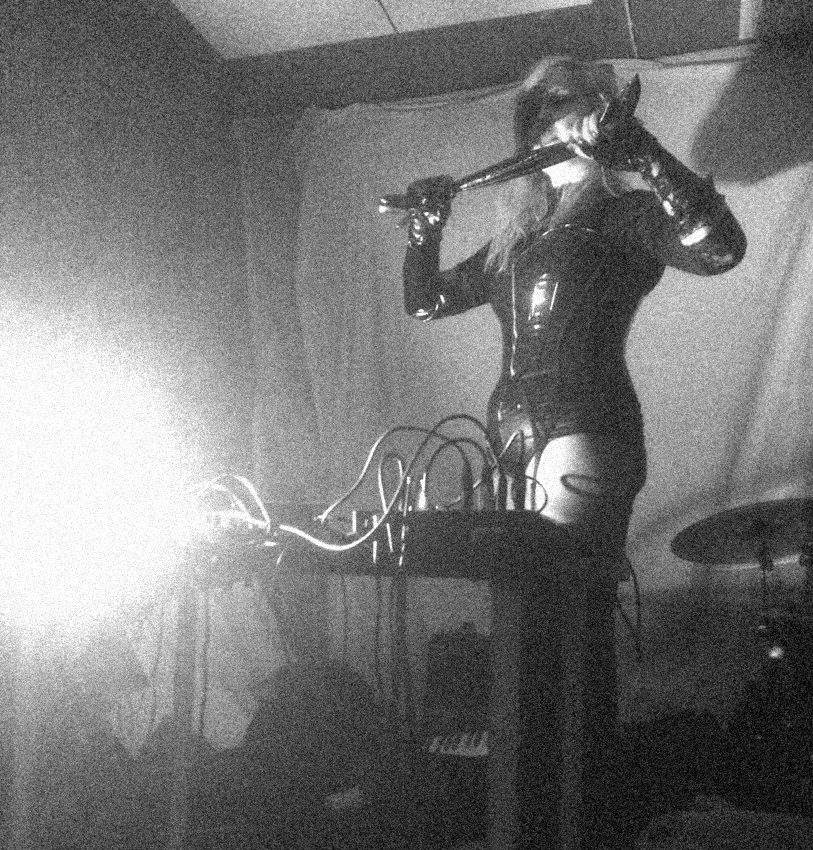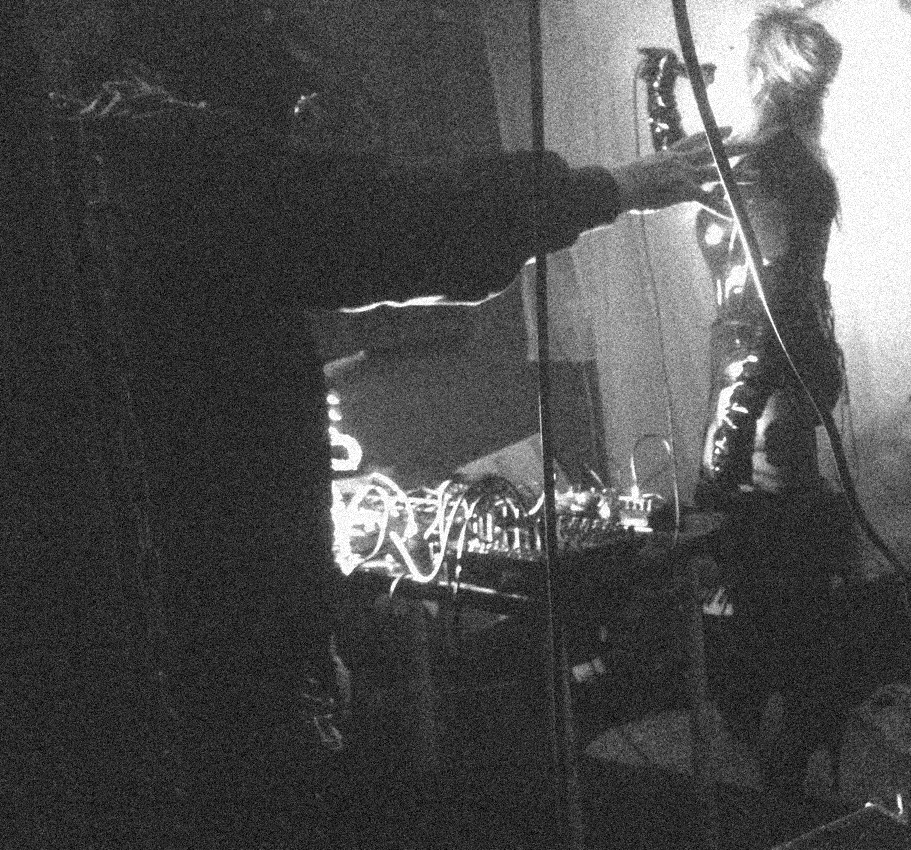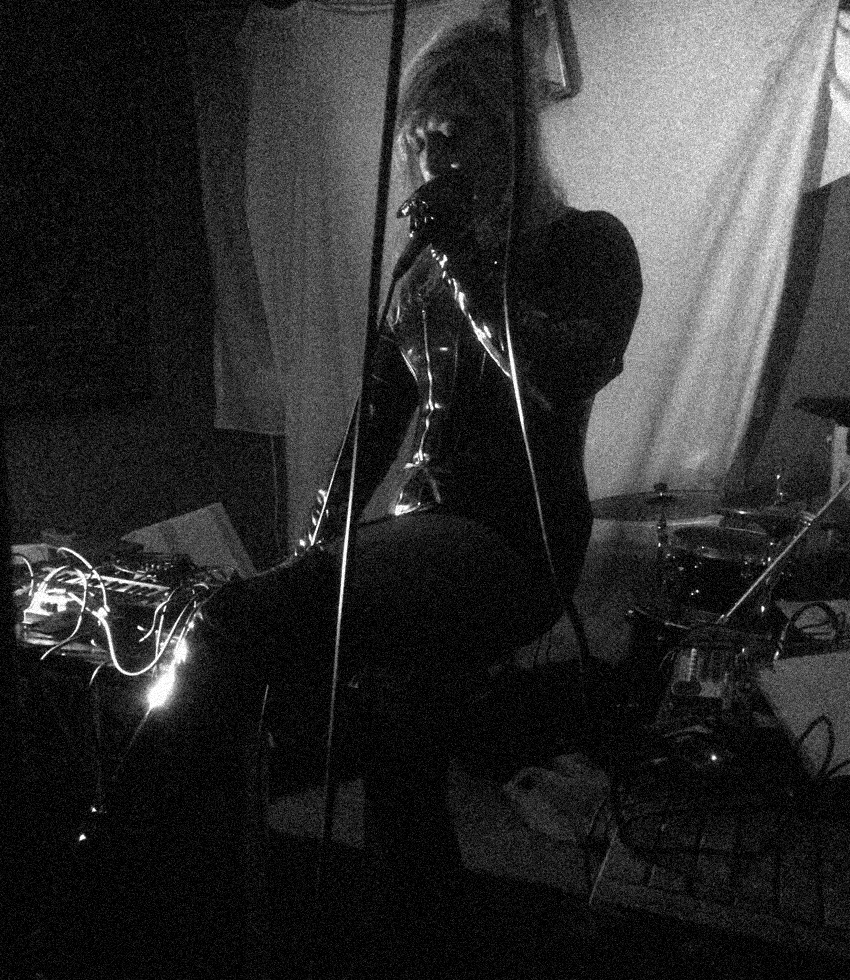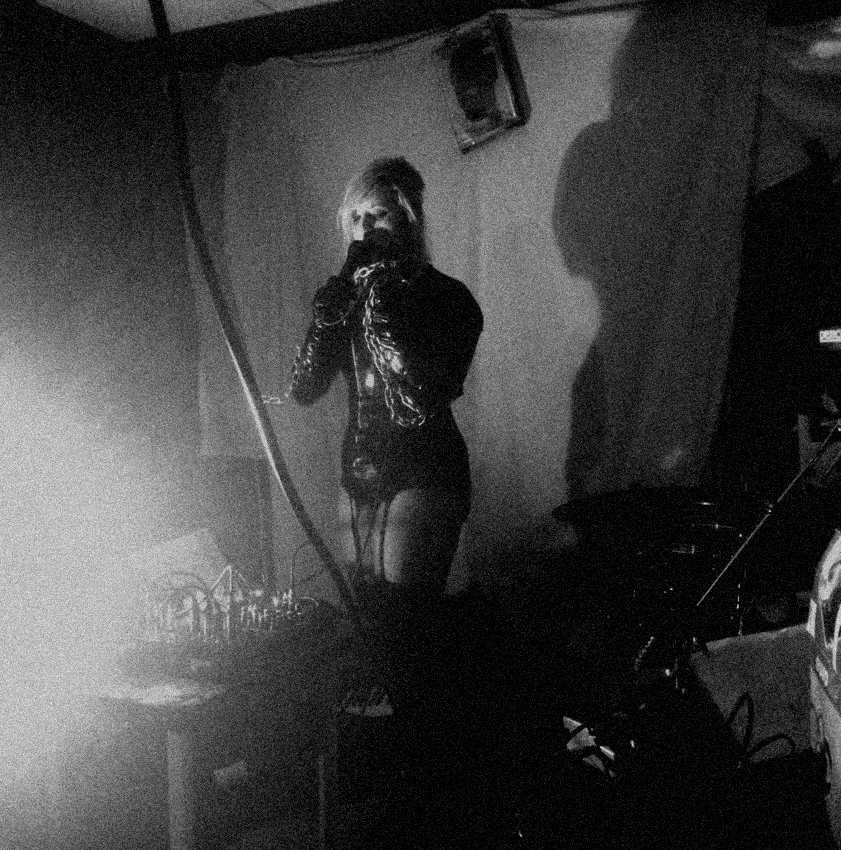 More about bands:
ARMOUR GROUP

HALTHAN

MILITARY POSITION